Featured Resource
National Benchmarking Report
KPI data submissions are open now
The National Benchmarking Report benchmarks your projects performance – time, cost, quality, client satisfaction and safety against NZ and UK' current and past performance.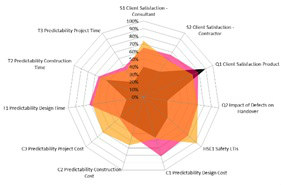 For projects completed in 2015
Submitting data is a straight forward process whether for one project or multiple projects.
Data collection is open now and closes 30 September 2016.
The report will be published in November 2016.
Now in the sixth year of data collection for the New Zealand construction industry you are also contributing to sector improvements via this 'free to market' tool for all the industry.
---
Model of rethinking construction
(5-4-7 model)

---
CONSTRUCTING EXCELLENCE delivers initiatives, tools & services which influence & assist individuals, corporates and the industry to achieve excellence in construction.
Constructing Excellence aims to achieve a step change in construction productivity by encouraging the sharing of knowledge amongst suppliers and clients. Through focused programmes in Innovation, Best Practice Knowledge and Performance Measurement, Constructing Excellence has developed a strategy to deliver the process, product and cultural changes that are needed to drive major productivity improvements in the sector.