Construction Clients' Group
Members
Will your logo be next?
Lean Construction leadership
"The Constructing Excellence training has challenged our culture of thinking…
the course material is relevant and interesting
with a practical interactive content that demands attendees' buy-in.
All our staff enjoyed the training sessions thanks to the factual and fun structure.
Highly recommended."
James Worthington, Worthington Contractors
Lean practices focus on reducing inefficiencies and waste in order to improve quality.
In our industry, Lean Construction involves achieving workflow improvements and efficient use of resources – time, manpower, budgets – to improve process flow and project outcomes.
The Constructing Excellence Lean Construction Pathway centres around the following building blocks:
Green Belt Part 2

–

Leader
Black Belt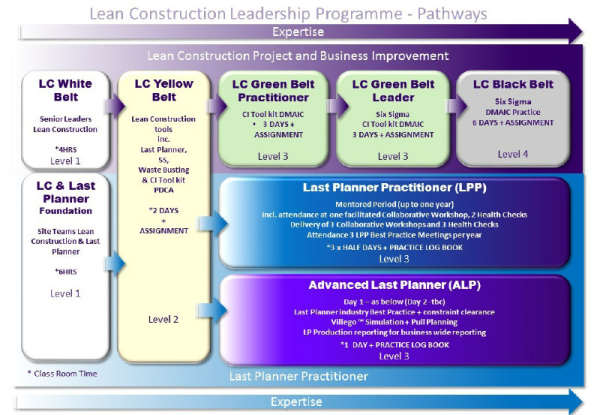 further Endorsements
Ross Duxfield, Construction Manager, Ebert Construction
"We had a very intense fit out to do on the project which required a high level of subcontractor input and interaction. We decided to use the last planner system to facilitate this. The input from Sue, Amanda and their team was hugely helpful in assisting us with bringing the fit-out home for completion in the time required and to enable the tenant to move in on the promised date.
The team at Constructing Excellence not only assisted in facilitating and guiding us through the process and the running of the site meetings, but also helped administer the system behind the scene with chasing trades for their forecasts and assisting them in how to complete their forms."
Andy Spittal, Manager, Major Projects, Watercare
(In-house training of 2 one-day training sessions for 20 PMs)
"Thank you for the high-quality workshop sessions you facilitated for Watercare. Both (training) sessions were extremely well received by our projects team and served to extend the thinking of our audience beyond the 'business as usual' management techniques.
The first day of the course is a Lean simulation; a role-play where by you get to understand the problems and bottlenecks. As a team you will use the roadmap and tools to allow you to make sense of Lean, come up with solutions and truly learn from experience."
Callum McCorquodale, Fletcher Construction, Waterview Well-Connected Alliance
"I have worked with Constructing Excellence for more than 3 years. The introduction of Lean has had the biggest influence on reducing waste and improving efficiency across the project."