Construction Clients' Group
Members
Will your logo be next?
NEC awards
The winners of the NEC Awards 2018 are:
NEC Project of the Year: Te Awahou Nieuwe Stroom, Foxton, New Zealand
NEC Client of the Year: Southern Regional College, Northern Ireland
NEC Contractor of Year: Hargreaves Industrial Services (HK) Limited, Hong Kong
NEC Contract Innovation through additional clauses award: Sellafield Ltd, United Kingdom

View the full list of finalists for the NEC awards 2018 >
NEC CONTRACT WINS HYNDS PAPER OF THE YEAR AT IPWEA 2017 CONFERENCE
David Langford of New Plymouth District Council and Luke Meys of Opus International Consultants have won the Hynds Paper of the Year award at the 2017 IPWEA Conference with their paper "Blurring the lines with the New Plymouth District Council professional services collaborative contract"....
Overview: Why NEC4?
NEC3 has already had a transformative effect on the industry. The adoption of NEC3 contracts put collaboration and collective risk sharing as the foundation for modern procurement.

With high profile projects being procured under NEC3, such as the London 2012 Olympic and Paralympic Games, these contracts have proven that even large, high-risk, complicated projects can be delivered on time and within budget.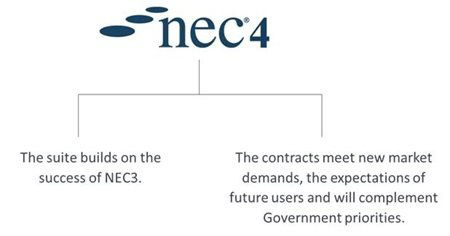 NEC4 contracts reflect procurement and project management developments and emerging best practice, with improvements in flexibility, clarity and the ease of administration.

Two brand new contracts have been added to the suite – NEC4 Design, Build and Operate Contract (DBO) and NEC4 Alliance Contract (ALC).

NEC4 is suitable for procuring a full array of Works, Services and Supply, ranging from a major framework to small-scale projects.

NEC4 is an evolution on the successful NEC3. NEC4 contracts keep on using plain English and present tense to facilitate the celebration of contracts across the world.
NEC4:
Reflects user feedback, industry developments and user best practice
Improved contract administration and reduces administration costs
Increased flexibility in each contract and NEC suite
Improved risk opportunity and management
Designed for international use
Better value, greater certainty and improved delivery
Choosing a Construction Delivery Strategy with NEC and Constructing Excellence (NZ) Ltd
We provide advice and guidance to client organisations, in appropriate construction strategies, at an early stage to ensure value based outcomes from the project choices.
Constructing Excellence hold the training franchise for New Zealand and uses approved NEC trainers to deliver all levels of training.
Background: How NEC Contracts Works
NEC produces a diverse range of definitive end-to-end project management contracts that empower users to deliver projects:
on time
on budget
to the highest standards.
The suite is uniquely flexible and can be used for the procurement of works, services and goods across all sectors – including public and private, buildings and infrastructure, plant and equipment – as well as all stages of a project lifecycle, from planning, design and project management to construction, maintenance and facilities management.
The NEC structure
The principal NEC3 contracts, short contracts and sub-contracts are can be broadly grouped into works, services and supply as shown below. The choice of NEC3 form depends on the project complexity and level of risk.
Works
Works encompasses purchases such as the construction, refurbishment and decommissioning of buildings, structures, process plants and infrastructure – including everything from houses, schools, hospitals and leisure facilities to infrastructure for water, energy, transport, industry and waste.
Services
Services includes purchases of professional services such as engineering, architectural, project management and consultancy works. It also covers composite services such as facilities management, cleaning, catering, security, maintenance and data processing.
Supply
Supply includes supply of high-value goods and associated services such as transformers, generators, rolling stock, cranes, gantries and complex plant. It also includes lower-risk items such as building materials and products, stationery, personal protective equipment and parts.
For more information: